Calgary's Monthly Slam & Open Mic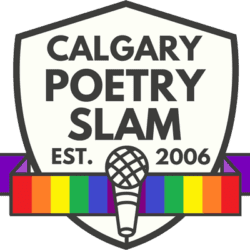 The Ink Spot Poetry Collective
This is the team that pulls together to make the Calgary slam happen each and every month.
Doors open at 6:30pm
Show starts at 7:30pm
Be sure to show up early if you want to sign up for the slam or open mic.
If you would like more info on poetry slams, please read the SLAM FAQs.
SLAM! is high-energy, competitive poetry.
SLAM! brings together diverse poets and an enthusiastic crowd.
Bob Holman calls Poetry Slams "the democratization of verse." Anyone can Slam and audience response is vital. The energy in the room runs as high as the stakes.
The monthly Calgary Poetry Slam was started in February 2006 by the Calgary Spoken Word Society. It takes place on the last Monday of every month.
What's the Score?
A panel of judges is chosen at random from the eager, uproarious and extremely attractive audience.
Each poet is given a score based on (#1) their writing, (#2) their performance and (#3) the audience's reaction – so, they have to pay attention not only to what they say, but how they say it.
Round One
There are 10 poets.
They are divided into two groups.
They each perform 3 minutes of their own Spoken Word Poetry.
The two top scorers in each group go on to compete in Round Two.
Round Two
Four mighty and fearless Poets from Round One each present a new poem.
The top two scorers move on to the final round.
Round Three
Two Poets compete until one is left standing with the prize money, the title and the glory.
The key is diversity. There's no formula for Slams; they encourage a wide range of voices and styles, everything from Hip-Hop to Sound Poetry, lyrical verse to jazz. Since the judges are chosen at random, there's no way to guess how the night will play out!
Arrive early! One hour before the start of every Slam, Someone will be there to start taking registrations at the venue.
A entrance fee, which is $5 (unless otherwise indicated).
3 poems, each of them no longer than 3 minutes. You may not get to perform them all, but bring them just in case.
Friends! Part of the score is based on audience reaction; the bigger the crowd, the better.
No props. No costumes. No musical instruments.
No boo-ing anyone you haven't slept with.
Seriously, don't read for longer than 3 minutes.
Points are deducted from their score, and the entire crowd swells up to chant "You rat bastard bitch, you're ruining everything for everyone... but it was well worth it!"
Based on the winners of the monthly Calgary Poetry Slam, we are putting together a Calgary Slam Team to travel the world, representing the city at national and international Slam competitions. Money from the monthly Slams goes toward travel funding for the Slam Team.